The AMA Handbook of Public Relations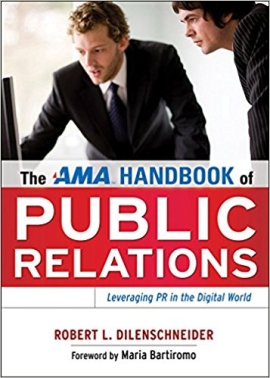 Leveraging PR in the digital world
Published by AMACOM
Foreword by Maria Bartiromo
Public relations was among the first industries to harness the power of the Internet. As a medium for corporate communications, branding, product information, and more, the Web's value was readily apparent. But the Internet is a double-edged sword whose perils are every bit as important to control.
The AMA Handbook of Public Relations is written to help professionals merge their traditional and Web-based campaigns while protecting their clients, companies, and themselves against harmful attention. Based on in-depth interviews and cutting-edge research, the book combines proven PR strategies with up-to-the-minute Web savvy to help readers:
- Master media relations
- Manage rumors and crises
- Adapt areas of specialization to the Internet
- Work with trade publications
- Leverage websites, blogs, podcasts, and social networking sites
- Monitor the Web for positive and negative feedback
- Allocate resources and establish budgets
- Measure the impact of Internet strategies
- And more.
Designed for daily use in a changed and changing world, The AMA Handbook of Public Relationscovers everything today's PR professional needs to know.

"Author and communications expert Dilenschneider... offers a well-researched and thorough guide to the constantly evolving, ever expanding public relations industry, laying the groundwork for PR professionals to take advantage of 21st century communications innovations.... Readers just entering the work force and experts struggling with the digital age transition will put this manual to great use." --Publishers Weekly
Hardcover | 256 pages | $10.40 USD | 7.3 x 1 x 10.2 inches | 978-0814415252 | February 17, 2010