The Critical 14 Years of Your Professional Life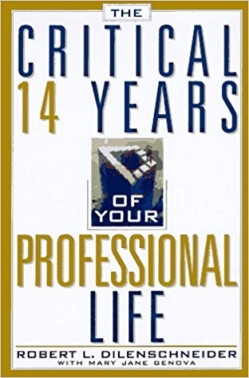 Published by Citadel
"Dilenschneider has guided thousands of highly successful people through the world of business." -Maria Bartiromo

Faced with an unstable economy, recent college grads need more expert guidance than ever to land that dream job and make it rewarding and meaningful. This invaluable guide-revised to meet the specific challenges of today's fast-evolving job market-shows how you can use your talent, originality, and initiative to sharpen your competitive edge.
The first years of your professional life are critical to long-term success in any field. The skills you acquire, the contacts you make, and the lessons you learn will help you remain involved, adaptable, and always ahead of the curve. Now a seasoned veteran of the workplace shares his insights, tips, and experiences in a thoroughly updated edition of a career-planning classic.

---
Praise for Robert L. Dilenschneider and The Critical First Years of Your Professional Life
"Offers practical advice on how young people can take charge of their careers and develop independently both the skills required to excel in any environment and the savvy to know when to move on." -Norman R. Augustine, former Chairman and CEO of Lockheed Martin Corporation
"An insightful, idea laden, practical guide that will be valuable to young professionals seeking to advance their on the job lives." -Stephen A. Greyser, Richard P. Chapman, Professor of Business Administration Emeritus, Harvard Business School
"Bob Dilenschneider has the right recipe for coping in an era of stunningly rapid change." -Allan Goodman, President, Institute of International Education
Hardcover | 208 pages | $14.91 USD | 978-1559723954 | June 1, 2000