The Public Relations Handbook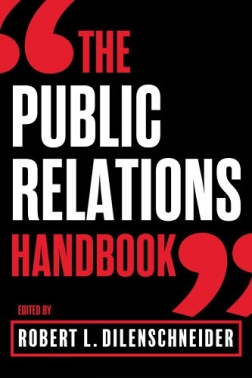 By Robert L. Dilenschneider
Published by Matt Holt
It is no longer enough for public relations professionals to be great at writing press releases or terrific at establishing media contacts. Today and in the future, all professionals must understand how their skills dovetail with those of other professionals.

The Public Relations Handbook contains valuable guidance for navigating the 2020s and beyond, answering for public relations professionals questions such as:
• How can they best work with a market research department or firm?
• How can they contribute to the sales department's efforts to open up new channels of distribution?
• How can they maximize the impact of the ad agency's new campaign?
• How can they advise the HR operation on the best ways to assure a diverse workforce, thereby avoiding the nightmare of an attack in that regard?
• How will they work with top management in the event of a sex abuse scandal?

The Public Relations Handbook has always been at the forefront of the practice of public relations. The first edition was published in 1967, with updates following in 1979, 1987, and 2010. The 2010 edition reflected advances in the practice of public relations based on the realities of the digital age. This new 5th edition examines and prescribes how to make public relations indispensable in an era facing new challenges in global public health as well as the convergence of new financial, economic, political, and societal issues.

No longer is public relations viewed as a separate and narrow tactic isolated from other activities. Public relations professionals must be prepared to deal with a staggering variety of people, issues and subjects. Today it is a given that planning and implementing a public relations program must harmonize with overall objectives whether that means selling a product, raising money or advancing a cause or a candidate.

The Public Relations Handbook assures public relations practitioners that they can navigate this new world effectively, and provides them the tools for doing so.
Hardcover | 288 pages | 9781637740613 | February 15, 2022