The Ultimate Guide to Power & Influence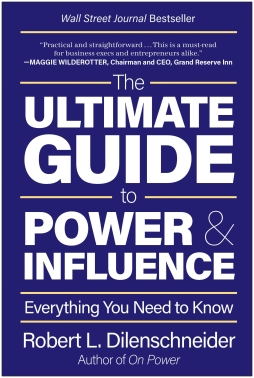 Everything You Need to Know
By Robert L. Dilenschneider
Published by Matt Holt
From respected consultant Robert Dilenschneider, The Ultimate Guide to Power & Influence explains how technology and globalization have revolutionized the ways to both build and keep success—and tells readers that to accomplish your goals, you must not only gain power, but also apply it with proper wisdom.

The Ultimate Guide to Power & Influence arms its readers with intellectual, technical, and moral weapons—tools you need to get and stay ahead in the increasingly competitive and ever-evolving business world. Acquiring both power and influence is crucial to advancing not only your personal interests, but also a more prosperous society at large.

Drawing from current-day lessons and the wisdom of hundreds of drivers of change in all fields of business, The Ultimate Guide to Power & Influence is Robert Dilenschneider's latest guide to harnessing the universal principles for success. It provides anecdotes and insights on a wide range of keys to success, including how to seize opportunity amid crisis, manage your network, communicate effectively, and take full advantage of social media to bolster your image.

A leader in the sphere of public relations and the founder of The Dilenschneider Group, which provides strategic advice to Fortune 500 companies and leading figures around the world—with experience in everything from mergers and acquisitions to government affairs and international media—Robert Dilenschneider writes with experience and authority to help readers acquire and amplify their power.

For graduate students to corporate professionals alike, The Ultimate Guide to Power & Influence is an essential guide to charting the ever-changing waters of the business world with imagination, competence, and grace.
220 pages | 978-1637742938 | July 25, 2023